Salted Coconut Chocolate Tart (Keto / Low Carb)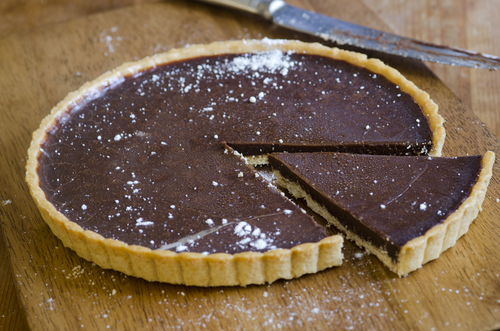 Salted Coconut Chocolate Tart
I've been attempting Keto for a couple of weeks now. I'm getting married in less than 6 months and I really want to lose that last 10lbs (the IMPOSSIBLE ones). I decided to try a Keto diet because I love food and hate being hungry, I'm addicted to sweets and carbs of any kind, and I really, really love food.
You get the idea. Anywho, we hosted a potluck for my fiancé's birthday party this past weekend and I wanted to make something to satisfy my sweet tooth. A friend had sent me a recipe she made that was essentially vegan chocolate silk pie.
I can get behind some chocolate silk pie. And the vegan part was essentially irrelevant to me, but I read the recipe to see how they did it. It looked so so so good. I was immediately drooling.
I decided to take that recipe and alter it to be Keto-friendly. The crust certainly wasn't and there was enough sugar in it to send me into diabetic shock (ok, let's be honest, not really — I can handle serious amounts of sugar).
I love coconut and chocolate together, and my favorite part about Keto is how many things call for coconut as a substitute. So, I took that recipe, found a pretty legit low-carb pie crust recipe, and made this crazy, delicious, absurdly good, holy hell, tart-shaped decadence. I wish I had taken a picture. I failed. I am totally using a stock photo until I can make this again. Like, tomorrow.
Even Dean, my fiancé, went to town on this thing — and he HATES coconut. I will say though, this tart requires whipped cream. It's so much dark-chocolately delight that the whipped cream really brings it balance.
Salted Coconut Chocolate Tart

Crust Ingredients:

1 1/2 cup almond flour (175 g / 6.2 oz)
1/4 cup plain whey protein or egg white protein powder (25 g / 0.9 oz)
1/4 cup flax seed meal
1 egg
1/4 cup Erythritol or Swerve, powdered sugar-free sweetener (40 g / 1.8 oz)
2 tbsp ghee (pie crust needs butter)
1/2 tsp coconut extract
1 pinch of salt

Filling Ingredients

16 ounces silken tofu
1/2 cup heavy whipping cream
1/2 cup almond, peanut, or other nut butter
1.5 bars of Bakers unsweetened baking chocolate
1/4 cup Swerve, powdered sugar-free sweetener (add more or less to your taste)
1 tsp coconut extract
coarse sea salt and flaky, shaved coconut for garnish

Crust:
Preheat the oven to 350°F. Mix all the dry ingredients (almond flour, flax seed meal, whey protein, and powdered sweetener).

Add the egg and ghee and use your hands to mix in well. The dough should be sticky enough to mold easily.

Roll out your dough between two large pieces of parchment paper until it is 1/4" thick. Place the dough into a non-stick tart pan with a removable bottom lined with parchment paper. Cut off the excess and press the dough into the sides of the tart pan to create an even layer.

Place parchment paper over the crust and use ceramic baking beans or actual dry beans to weight the dough down. This will prevent the dough from rising and creating air bubbles. Place in the oven and bake for 12-15 minutes.

When done and slightly browned, remove from the oven and set aside to cool.

Filling:
Blend the sliken tofu, whipping cream, and almond butter in a blender until smooth.

Melt the baking chocolate in the microwave (follow instructions on package or microwave for 1-2 min, stirring every 30 seconds). Add melted chocolate and powdered Swerve sweetener to the blender and blend until smooth. It should get pretty thick so use a spatula between blends and to get out of blender.

Evenly distribute filling into the crust, sprinkle with sea salt and coconut flakes, and chill for 12-24 hours. Cut and serve with whipped cream (sweetened with Swerve)!